The Maldives or Maldive Islands is a group of about 1,200 islands located in the Central North regions of the Indian Ocean.
Of those 1,200 islands, only about 200 of them are inhabited and even fewer are designed for tourists.
Many of the islands are grouped together in small clusters, which are also known as atolls. The capital island of the full group is known as Malé.
This island rests approximately 400 miles SW of Sri Lanka. It is the hub of the Maldives.
Other islands have resorts and attractions but your flights and primarily transportation will stem from Malé.
All About Maldives

Learning some basic information about Maldives is a valuable step to take before you head out. Remember that there are several different islands and activities, so this will be part of the process in planning your trip.
You should get to know details about the Maldives people, Maldives language, weather, safety, currency, religion, and more.
Here, we share some quick tidbits with you as a basic overview but be sure to check out our articles for all information about Maldives in more detail!
Maldives People
The Maldivian are comprised of people who settled on the island when it was first discovered, as well as migrating and relocating there throughout its history.
It has an Arabic history to some degree. It is said that the original settlers came to the islands from the Southern India and Sri Lanka areas.
Most of the islands have populations of 1,000 or less, although some islands do exceed this number. Malé is the largest, with it being the capital island.
It has the highest population and is the only island that is not considered "rural". Most of the population lives in small villages throughout these islands.
Food in Maldives
The food that you will find in Maldives has a rich Indian culture to it. The cuisine is labeled as Dhivehi cuisine, which consists of a lot of fish thanks to the proximity to the sea.
They do have their own traditional cuisine that varies slightly from other locations but it's tasty.
For the full cultural experience, here are some dish recommendations and overviews for you to consider in Maldives:
Masroshi: this is fried dough that is also stuffed. It can be served as a meal, snack, or appetizer. Inside the dough, the stuffing typically has things like tuna, coconut, curry leaves, hot peppers, and seasoning.
Gulha: the national dish is a pastry that is filled with smoked fish, coconut, and onions and then deep-fried to perfection.
Garudhiya: a fish soup that you will find to be a popular choice in the Maldives. Slowly simmered and paired with spices, curry, and chili peppers.
Kulhimas: this tuna dish prepares a paste containing spices and hot peppers spread over the fresh tuna. That fish is then slow-roasted, pulling out the best flavor. Most of the time, this is served with flatbread.
Mas Riha: this is a Maldivian fish curry that is quite popular. They use fish, coconut, and some starch to create a flavorful mixture you won't find in curry anywhere else. Served with rice most of the time.
Kukulku Riha: if you're not a fan of fish, this is a curry dish that uses chicken instead. It still has the great curry flavors, with some lime and ghee added.
Aluvi Boakibaa: this is a sweet dish that pairs together the makings of cassava cake and coconut flavors.
These are some common dishes you will find. There are also vegetarian choices and plenty of sweet dishes as well.
Here is a more detailed article for you: Maldives food.
Maldive Details About Nature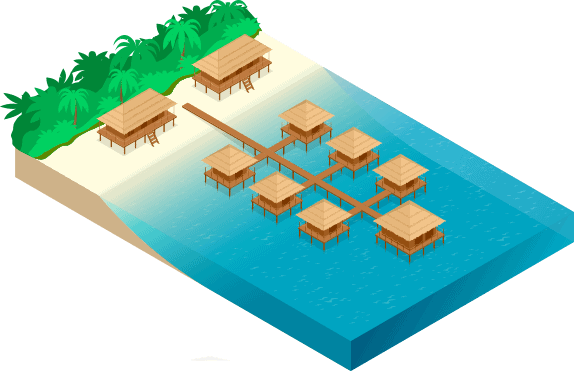 One of the most impressive reasons to come to the Maldives is for the beautiful nature that will surround you. We could tell you all about Maldives all day long but nothing will compare to the animals and the views when you get here. They are simply indescribable.
Maldives is home to a wide array of sea life. This includes sea turtles, whale sharks, tropical fish, manta rays, and dolphins.
Of course, don't even get us started on the coral reefs, the white sandy beaches in Maldives, and the breathtaking blue waters.
The area is inviting with warm sunshine, beautiful views, and a plethora of things to do in Maldives.
Plan Your Maldives Trip
Now that you know the basic Maldives details, dig into the planning and learning more about this set of islands. We've just barely touched the surface of the valuable things to know, so don't stop here!
Book your vacation to Maldives now!