As you're planning your trip to Maldives, one of the decisions you must make is what type of accommodation you want to stay in. Of course, you will think about things like choosing a luxury resort, finding a plunge pool or infinity pool, etc. But you also need to choose the type of room. We highly recommend taking the opportunity to stay in Maldives overwater bungalows.
You won't regret this unforgettable experience.
Much like choosing the best resort, there are details to finding the best overwater bungalows to stay in.
In fact, these bungalow choices might actually help better determine which resort you want to book your vacation to.
Let's take a journey through some of the best options to help you make your decision!
What Are Overwater Villas or Bungalows?
The overwater bungalow, or water villas as you might see them also called, is your bedroom or suite to stay in. What makes it so unique and amazing is that it's built directly over the water of the Indian Ocean.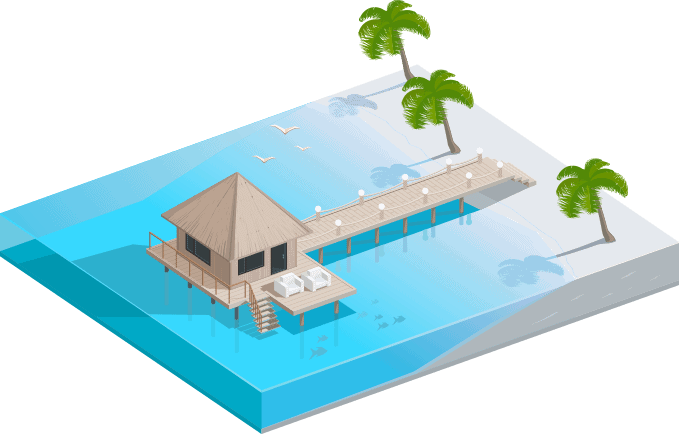 How they look or are set up will depend on the resort itself, but most of them give you a clear view of the ocean and quick access to private pools or the other amenities of the island villas resorts.
You get privacy within and around your bungalow but also plenty of interaction with other guests when you want it. Most bungalows even have some form of a private terrace or outdoor deck so you can simply sit outside and soak up the ocean and the sun.
In addition to this setup where you are quite literally on the water, many overwater bungalow designs even have some style of see through floor or a section of the floor where you can see through to the water directly underneath your bungalow.
It's such an awesome experience!
We've put together a list of some of the top bungalows in Maldives. Check these out!
Best Overwater Bungalows in Maldives to Choose From
We know searching through all the different resorts and islands can be incredibly overwhelming. That's why we did the hard work and research for you.
We took the time to sort through a myriad of options so we could help you narrow it down.
Whether you're looking for a private island, private pool, outdoor shower, a retractable roof, or even just a simple overwater villa, we've got what you're looking for here.
Maldives overwater bungalows deliver in every regard.
1. Lily Beach Resort and Spa

One of the most luxurious and reliable water villas is Lily Beach. Theirs is all inclusive, and it is highly recommended by pretty much anyone who has ever been there.
The packages can get a little pricey but the fact that everything you could possibly need is part of the charges makes a difference.
These bungalows in the Maldives have several different options to choose from. The deluxe options are utterly amazing with spacious interiors, private jacuzzi water villas at each location, and more.
They have 56 water villa choices and then 119 other room and suite options as well.
While many all-inclusive resorts in Maldives have you pick and choose certain things, and your price changes with each addition, this one works differently. They are truly an all inclusive resort, and your package gives you food, drinks, activities, spa access, and so much more for the price.
2. Soneva Jani

This beautiful resort is utterly breathtaking. With direct access to a plunge pool and private infinity pools, you simply can't go wrong at Soneva Jani. This sweet water villa location was designed with luxury and extravagance in mind, and it clearly stands out.
In fact, in some of the water villas, you even get a retractable roof so you can sleep right under the stars from your bed. They also have an overwater hammock you can relax in. Did we mention the outdoor showers at every bungalow?
There are several size options, and your view of the Indian Ocean and the underwater world will not disappoint. To top it all off, it's great for romantic getaways or families. You won't want to miss the direct lagoon access and the water slide to get there.
Soneva Jani is also on our list of Maldives luxury resorts and Maldives most expensive resort.
3. COMO Cocoa Island Resort

If you're looking for access to towering palm trees, spacious bathrooms, and a romantic master bedroom, look no further.
Even the smallest of villas have whirlpool tubs in them, with a deep soaking tub in the bathroom. You also have a private deck option in the jacuzzi water villas. You can enjoy direct ocean access, delicious foods, and plenty of drinks as well. They have 64 water villas here.
The infinity plunge pool is very nice, and the resort drives a great bargain with all the amenities and features. Don't forget your access to water sports and activities as well.
4. Park Hyatt Overwater Sunset Pool Villa

If you like the open concept, this water villa selection is just for you. You will have water all around you with direct access. They don't have an outdoor bathroom space but rather a glass-enclosed bathroom and open spaces in the water villas.
Your outdoor deck will give you the best view of the Indian Ocean, house reef, and quick access to the infinity pool too. The polished wood floors and open-air living room feel modern but cozy at the same time.
At this resort, you can enjoy the spa, a fitness center with a little bit of everything, tennis courts, and watersports galore. They also have some private dining options to choose from. This is just shortly away from North Ari Atoll, one of the largest atolls.
5. Velaa Private Island Resort

With a perfectly private island, this sweet resort gives you clear views of the Indian Ocean, house reef, and no other resorts to compete with. It's also quite close to the primary Maldives airport, so you can easily head to the larger island if you want to.
It's unique and easily a top choice of bungalows in Maldives, thanks to the privacy it offers. Your water villa will be packed with luxurious comfort, gorgeous views, overwater hammocks, and more.
You also can enjoy the coral reefs as well as the freshwater pool for guests. You have a dining table on your deck. Consider this the boutique of resorts.
It has all the best highlights and some of the best dining around.
6. Gili Lankanfushi

Don't risk accidentally getting a room that isn't a water villa. Many of the best resorts have different types of rooms, so you have to be careful about your choices.
But this particular all inclusive option only offers Maldives overwater bungalows and nothing else.
The bungalow sports a contemporary style with vaulted ceilings and modern architecture on the water.
This resort also has a reputation for its eco-friendly approach and Maldives sustainability maneuvers. It makes a difference in many ways.
Find more eco-friendly resorts in Maldives.
The overwater villas even have large options that are two floors when you need more space. The only way to get to these serene water villas is to take a boat.
It's a short trip from the airport as well, so civilization is just around the corner.
7. Ayada Bungalows in the Maldives

Sit back and relax in the ultimate lap of luxury at this overwater bungalows resort. This resort is definitely a 5-star solution and your service will be personalized with everything down to the butler.
They even drive you around wherever you might need to go.
The floor to ceiling windows, luxurious walk-in shower, and personal pool to each bungalow provides you a romantic honeymoon spot or a family fun location. Your sun loungers have the best view, and your access to the wine cellar can't be beat.
Unlimited meals are a great perk. You can even order a floating breakfast that will be delivered right to your pool and deck area. There are plenty of activities and water sports, including surfing, snorkeling, scuba diving, fishing, and more.
Ayada is also on our list of: Maldives surf resorts
8. Six Senses Laamu

There is simply nothing better than having the clear waters of the Indian Ocean surrounding you in peace and luxury. On one side, you get coral reefs and a turquoise lagoon to enjoy, and the other allows you all the ocean activities.
Whether you want to go on a diving excursion or sit down at an underwater restaurant, all these options are close to your fingertips. This resort has 97 overwater bungalow choices, so you're more likely to be able to get in.
Your room will be loaded with an overwater bathtub, an outdoor rain shower, and plenty of other cozy features. Everything is designed for pampering. They also have several fitness and relaxation choices, including Ayurvedic therapies.
You can also find this resort in our list of Maldives spa resorts.
Learn more about: Six Senses Laamu
9. Muraka at Conrad Maldives

This one is a bit unique but well worth checking out. Rather than multiple overwater villas, you're looking at a communal property that is more like a VRBO or similar property than a full resort. It's perfect for a large group.
Yes, you are over the water, and one of the rooms is actually down in the water. It's absolutely beautiful and a phenomenal experience. The room that is in the water has a full view of the sea around you that spans 180 degrees of the space.
This will be one experience you can't beat. Apart from the spacious and unique layouts, you also have a butler service and some excursions and activities available to you for your enjoyment.
10. Vilamendhoo Island Resort and Spa

Let's face it. Sometimes we need a budget-friendly solution, but still don't want to miss out on the thrill of Maldives overwater bungalows while we're there. This choice might be a great option to capture the pleasure of overwater villas without the excessive costs.
This resort is known for having whale sharks around the resort, giving you the view of a lifetime. Oftentimes, the only way to really see whale sharks is to head to the dive center, but you won't have to travel far here to experience them.
Choose from the water villas with jacuzzis or something more simple with deck lounging and seating. It's up to you. The island and resort area are beautifully green with vast white beaches to enjoy.
Vilamendhoo is also a great diving resort in Maldives.
11. Angsana Velavaru

This simple resort doesn't get the bragging that it deserves. However, it's an impressive choice with a private infinity pool, lounging deck, and plenty of space to enjoy in your water villas. You don't ever have to leave your own bungalow if you don't want to.
The resort is luxurious right down to every last detail. You can enjoy plenty of oceanside activities while you're there and create your own all inclusive package. One difference this resort offers is the ability to choose whether you want the perfect view for sunset or sunrise.
Don't get us wrong, your view will be glorious either way, but this tailors your stay to the view you absolutely want the best spot for. You can see that view of choice right from your bed. The resort offers everything you need, from water hammocks to coral reefs and many things in between.
12. Amilla Maldives Resort

Get ready for another winning choice with this sweet location. Located right in the heart of the Unesco Biosphere Reserve Baa Atoll, you have all the marine life and the most beautiful turquoise waters surrounding you.
This Baa Atoll resort even has treehouses you can choose from.
The overwater observatory is certainly a draw, but the water villas are spacious and luxurious to boot. The glass floors in parts of your rooms give you the best uninterrupted views. The decks have privacy walls, and you get a personal pool and sitting area too.
Your per night price will include everything this Maldives resort on the water has. That's your rooms, food, drinks, and activities. The spectacular views and marine life will likely be enough to convince you.
If you are interested in visiting this resort or spending your honeymoon there, see Chloe's review of Amilla.
13. W Maldives Resort on Water

This next resort is a unique overwater option. With their eco-friendly builds, beautiful terrace designs, and impressive wooden outlays, you will feel like you're sleeping on the ocean. And really, you are when you think about it!
The resort is loaded with six restaurants to keep you fed. The water villas are designed to be chic and funky, taking a more modern approach. The Maldives overwater bungalow here provides alluring views and luxurious details you likely hadn't considered.
Each resort has a terrace space, a wraparound sun deck, glass flooring, day beds to lounge in, and floor to ceiling doors so the inside feels like it becomes one with the outside. The water activities won't disappoint either.
14. Constance Moofushi Bungalow in Maldives

This overwater resort is a newer option, but they've been around long enough to work out most of the kinks now. They're said to have some of the best scuba diving, and the overwater bungalows are very nice. It has a contemporary vibe since it was just opened in 2010.
The resort is impressive and has 86 water villas to book. In addition, they have some island rooms that are also very nice with a private terrace and stunning views. Everything about this overwater resort is all inclusive from meals to activities. That being said, the per night rate is a great value.
If you want excellent water sports, lush rooms, and a pleasant location with everything included, you can't go wrong here.
15. Soneva Fushi

If you want a location that feels more private and secluded, this Maldives over the water bungalow location is the perfect choice. You know it won't be crowded because they only have eight bungalows that are overwater.
This is a sister resort to one of our earlier mentions (Soneva Jani), and it's just as appealing. You will get spectacular service, beautiful views of palm trees and ocean, and luxurious accommodations.
Each bungalow has floor to ceiling windows, catamarans over the water, patios, outdoor showers, and more. You can even use bicycles to get around.
The Best Tips to Choose Maldives Overwater Bungalows
Now that you know the top 15 picks for overwater bungalows in the Maldives, let's cover a few helpful hints to help you narrow it down further.
We all have different vacation needs and desires, so these details will help you figure out your preferences and what resort can offer them.
Private Pools

Some resorts will have a common pool that all guests can head to. However, you will be surprised how many resorts have a private pool right at the bungalow.
This means you don't even have to share or worry about the noisy kids from the bungalow down the way.
Resorts like the Soneva options even have spectacular water slides that you can use to enjoy the pools. Consider these details and whether you specifically want a private pool at your bungalow.
Budget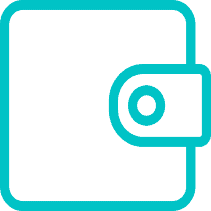 When you are looking at the per night rates, remember that for most resorts this includes everything. However, you will want to be sure to confirm the costs. A per night rate of $750 – $1500 can seem intimidating.
But stop a moment to calculate food, drinks, and activities that are likely part of that cost per night. Always check those details to know what is or is not included.
Of course, you can find budget-friendly resorts that have lower per night rates. You can all choose non all inclusive resorts to help reduce costs.
Views

You're going to have stunning views no matter where you stay. Different bungalows will offer different views. You will notice that some resorts have floor to ceiling doors and windows. Others have glass floors or retractable roofs.
If you have a specific way you want to enjoy your views, these details will be essential to your decision. However, if you forget to prioritize this detail, you really can't get a bad view at any overwater site.
Activities and Dining

Finally, consider the activities and dining experiences that you want to have available. Do you want access to the infamous Maldives underwater restaurants? Perhaps you are more concerned about scuba diving or surfing capabilities. Of course, the spa is probably also something to keep in mind.
You will find that most resorts have a good variety of dining and activities. However, they are not all the same. Don't assume that every resort will offer everything you want.
Always pay attention to those details before booking.
Enjoy Overwater Bungalows in Paradise
No matter where you end up with your pick of Maldives overwater bungalows, you're bound to have an amazing stay. Every resort is luxurious and accommodating in every way you can imagine.
Many of them have spectacular amenities, high-quality service, and views that will leave you stunned.
Which resort will you try out first?
Maldives Overwater Bungalows on Map
FAQ
How Much Do Overwater Bungalows Cost in Maldives?
The prices can vary depending on which resort you choose and whether it is all inclusive. However, we recommend planning for $500-$1500 per night.
Where Did Kara and Nate Stay in Maldives?
Kara and Nate stayed at the Soneva Jani, which you will find in our list above. This is one of the high-end resorts that is all about luxury.
Are Over the Water Bungalows Worth It?
Not every bungalow is the same but each one is unique and definitely well worth the stay. Your views will be awesome and the experience will be one to remember.
How Deep is the Water Under an Overwater Bungalow?
In most cases, the water is fairly shallow. The average is anywhere from 3 to 5 feet deep. There are times that it may be deeper but it won't be much deeper than this.
How Many People Can Stay in an Overwater Bungalow?
This will depend on the size of bungalow you choose and may depend on the resort as well. There are larger bungalows that cater to families and groups as well as small bungalows for 2-3 people.