Heading to the Maldives is certainly an adventure, but there is simply no adventure like a water slide to really capture the thrill. There are plenty of Maldives resorts with slides, including some that have slides directly off the villas too.
If you're specifically looking for a water slide for your Maldivian adventure, look no further. From fun for both adults and children to bedrooms that have waterslide accommodation, you have plenty of choices.
Take a quick look at these options for a resort in Maldives with a water slide, and then choose what works best for your personal needs.
The Best Maldives Resorts with Waterslides
Every resort is different and unique. You can find luxury villas, kids club opportunities, private pool setups, and so much more. But finding a water slide just might really perfect your adventure.
Whether you have kids or not, a waterslide can be a lot of fun.
Are you looking for a private Maldives water villa with slide or something more like a Maldives hotel with water slides? You've got choices here!
These are some of our favorite Maldives resorts with slide options to look at:
Ozen Reserve Bolifushi
Soneva Jani
Soneva Fushi
Gili Lankanfushi Maldives
Siyam World Villas in the Maldives
Cora Cora Maldives Villa
1. Ozen Reserve Bolifushi Waterslide Suites

First up, we have the Ozen Reserve Bolifushi resort. This particular private reserve brings you your own pool suite with slide attached. You get to stay in this luxurious ocean pool suite that is a huge Maldives water villa.
It has a private pool, and the slide at Ozen is one to remember.
If you want a slide at Ozen Reserve Bolifushi, you actually have more than one option. Choose the Ozen Reserve Bolifushi private reserve ocean with a slide that goes right into the Indian Ocean. This private reserve with slide is a two-bedroom water villa, so it has plenty of room for your family or friends to enjoy Maldives together.
The kids can enjoy the kids club or hang out at your water villa, enjoying the slide and accommodations. It's a private ocean setting with private pools at each ocean villa. This quiet, private reserve is bound to give you a thrill. The slide is simple but fun here.
The other option aside from the private reserve with water slides is the ocean pool suite with slide. This is an even larger water villa that is almost like your own house on the water. Your swimming pool will be luxurious, but since you're in a two-story Maldives villa, you can also look outside and see the Indian Ocean from the lower level.
The private reserve and pool suite with slide are both highlights of the Ozen Reserve Bolifushi resort. Whether you want Maldives villas with slides or you just want to send the kids to the kids club to slide around, it's prime accommodation to do so.
2. Soneva Jani Villa with Slide and More

There are two really great options for a Maldives resort on water with slide. Both Soneva Jani and Soneva Fushi are specifically known for this aspect. These sister resorts are designed with stunning luxury, but don't forget the water slide that is part of almost every accommodation at Soneva Jani.
At Soneva Jani, you can book a Maldives bungalow with slide, stay in a water retreat with slide, or pick from a private reserve and other accommodations as well.
The water slides are all curvy and fun!
These are some of the different options for booking your water slides at Soneva Jani:
Soneva Jani 1 bedroom water retreat with slide
Soneva Jani 2 bedroom water retreat with slide
Soneva Jani 3 bedroom water retreat with slide
Soneva Jani 4 bedroom water retreat with slide
Soneva Jani Private Reserve villa with water slide
At Soneva Jani, there are several different rooms, including large 4 bedrooms, the 1 bedroom water retreat, or even private reserves that are also like a large house. You can easily access the kids club for additional slide options.
Soneva Jani is one of the best when it comes to a Maldives resort with water slide.
3. Soneva Fushi Maldives Resort with Slide

Next up, we have Soneva Fushi, another stunning Maldives resort with slide. You can slide from upstairs on their large water villas or hang out on the sundeck and watch the sliders in action.
You are surrounded by unforgettable features located in a luxurious and amazing resort that makes your entire experience all inclusive, from dining to diving and sliding and everything else in between.
The bedrooms are spacious, with the ability to enjoy your own private lagoon at the villas. The overwater villas are some of the world's largest luxury water villas, particularly in Maldives. The water retreats bring you all the features in one place with a first-floor and second-floor and a brilliant overwater experience.
The slides take you to your private swimming pool or turquoise lagoon, and you have plenty of sun loungers to simply take in the ocean, island, beach views, and sun.
Soneva Fushi has rooms and villas that are similar to Soneva Jani, but the resort does have some differences. You can certainly count on overwater bungalow options, villas with private lagoon access, and plenty more luxury where that came from.
These are the Soneva Fushi water slides accommodations to look for:
Soneva Fushi 1 bedroom water retreat with slide
Soneva Fushi 2 bedroom with water slides
Soneva Fushi Private Reserve villa with slide
Soneva Fushi Overwater Bungalows
Soneva Fushi Water Villas
At Soneva Fushi, the one-bedroom water retreat with water slides is very similar to the water villas, but it is meant to be slightly larger and more inclusive of features and amenities.
Regardless of what you choose, you get luxury villas and water slides for everyone to enjoy.
The overwater bungalows, as well as the retreats have a private pool. At this resort in the Maldives, even your beach villas have a retractable roof so that you can experience the same in your private ocean water villa too. They don't have a huge 4 bedroom at this resort, but the two-bedroom is pretty spacious for a family or group.
Soneva Fushi is one of the best Maldives resorts in the Indian Ocean for many reasons, and water slides are just part of that.
4. Gili Lankanfushi Maldives

Gili Lankanfushi is on a private island and is arguably one of the most luxurious resorts in Maldives. Its turquoise lagoon is stunning, as is every ocean view from the resort, and the pristine beach too.
Whether you choose a simple ocean villa, two bedroom villas, or something else, you're going to experience luxury like no other resorts compare to. And the best part is that at Gili Lankanfushi, you can get a villa with slide if you want. Of course, the Gili Lankanfushi water slide options are a little bit more limited and certainly more expensive too.
Gili Lankanfushi is most known for the private reserve overwater bungalow with water slide. It's large, spacious, and supremely private. This reserve with slide even has an air-conditioned gym in it. These luxury villas have their own infinity pool, retractable roof spaces, overwater lagoon views, and all the best resort amenities too.
Ideally, the Gili Lankanfushi reserve with slide luxury villas is meant for larger groups, but you can enjoy the public slides if you decide to stay in a beach villa or the alternative water villas at this private ocean resort.
This 5-star luxury resort is great for families and might just have one of the largest water villas for families out there. We know for sure it's packed with luxury for your water retreats. Spend time having fun, and enjoying amazing luxury too.
You're not far from the international airport, so families can also travel more easily to get here.
5. Siyam World Villas in the Maldives

Next up, if you're looking for a simple, but luxury, overwater bungalow with slide, Siyam World Villas has some really great choices as well. You will be surrounded by unforgettable sliding and dining opportunities.
Where some of the resorts are set up for family fun, this overwater bungalow with slide is more personal and smaller. You have access to the blue lagoon thanks to your waterslide, and can enjoy sliding, diving, dining, and more at this waterslide resort.
Siyam is another 5-star facility, and it can accommodate families or small groups, including adults or couples. Choose the room setup that most appeals to you, from a lagoon villa to a reef villa to a pavilion villa and even a private pool villa. The infinity pool at that last one has plenty of room. The slide goes down to the lagoon itself.
Each of these water villas in Maldives is still spacious and cozy. The biggest difference between them is whether they have an infinity pool, how large they are, and where the slide takes you as well. Their one bedroom water retreat attaches to overwater bungalows with clear views that you will never want to turn away from.
6. Cora Cora Maldives Villa

Another luxury resort that brings you an overwater bungalow with slide is Cora Cora. Now, you should also know that this two-bedroom is their only overwater bungalow with slide option, so don't expect smaller water villas here.
That being said, it's a great spot for a family or a group. You have private access to an infinity pool, a spacious deck, plenty of space inside, dining choices at the resort, and blue water all around you.
The resort has a gorgeous beach that you can enjoy as well. The overwater villas are modern and very nice and enjoyable. They are designed to be functional while still being cozy and luxurious for your stay in Maldives.
Additional Ways to Enjoy a Water Slide in Maldives
While there are only a few resorts that have an overwater bungalow with slide that you can book, there are plenty of resorts that have water slides available to their guests. They just aren't all attached to your deck when you walk out of your villa room.
In some cases, they are located in the public pool or swimming space, rather than at the overwater villas only. You will notice that if you get slides at your overwater villa, you are likely going to pay a premium price too.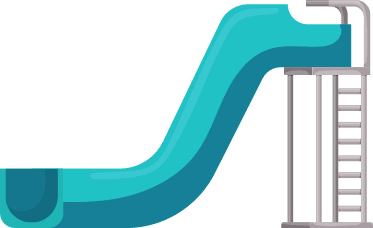 But you can find slides in other spaces throughout Maldives. This is great news for those that decide to stay in something like beach villas instead of a water villa, right?
Here are a few Maldives areas where you can enjoy a water slide on the island or at resorts.
These ones are not directly attached to your villa to the lagoon:
Children's club areas at several resorts (Soneva Fushi, Cheval Blanc, Velaa Private Island, Holiday Inn Kandooma, and InterContinental Maldives Maamunagau)
Beach water slide at Oblu Sangeli
Pool water slide at Hard Rock Hotel Maldives
Bar/restaurant slide at Out of the Blue (Soneva Fushi)
Bar/restaurant slide at The Gathering Restaurant (Soneva Jani)
Whether you want to stay in a beach villa, hang out in hotels in Maldives, or go all out with a private lagoon villa, you have access to slides in multiple different locations. Notice that Soneva Fushi and Jani have slides all over the place, including restaurants and bars, and throughout the island.
Take your pick when it comes to your slide options.
Things to Consider When Choosing Your Water Slide Location
We've covered some of the best places to find a water slide throughout Maldives, but there might be more to your decision as well. Whether you stay in beach villas, a water villa with slide, or even in hotels, you've got choices to make.
Take a look at some of these things to consider as you decide where you want to stay with a water slide.
Type of Room Needs

We saw from the many options above that you can get a water slide in different types of rooms. If you plan to stay in hotels, some of those have public water slides that you can use. Of course, you can also get a villa with a slide that suits a family or group and sits on the water. Those options take you directly to the lagoon with your water slide.
The type of room that you need is totally up to you. Choose a villa with slide or simply stay in a beach villa or hotels and enjoy the slides available throughout Maldives.
Resort Amenities

While you might be on the hunt for a water slide, or villa with slide, there is likely more that you want to enjoy as well. Sure, a slide is nice, but you also may want to be able to go diving, or experience other adventures too.
Take these thoughts into account.
Budget Details

The one thing that is quite clear is that if you stay in a villa with slide, you're likely going to pay more for the accommodation. This is why staying in an alternative room might be a great option for some, but be sure the resort has slides if you do so.
Choose a water slide location and accommodation that will truly work for your budget.
Enjoy the Water Slide Adventure in Maldives
Whether you choose to stay in a villa with slide, or just go somewhere with a water slide, you're going to have a great adventure. These Maldives resorts with slides all have awesome rooms and other amenities to suit you. Choose what works for you, and go from there!
Will you stay in a villa with slide, or just choose a resort with slides available?
Maldives Resorts with Slides on Map
FAQ
Which Maldives Resort Has a Water Slide?
There are a few different options when it comes to a resort with slides available. Some have slides attached to the villas and rooms, while others might have them on the beach, or at the pool. We listed the best options, like Ozen Reserve Bolifushi, Soneva Jani, and more.
How Much is a Villa at Soneva Jani?
Soneva Jani is known for having one of the largest water slide collections, with options at dining locations and the beach to choose from. They also are a high-end luxury resort with a high price tag. Prices will vary depending on what rooms you choose and when you go.
Does Maldives Have Overwater Bungalows?
They sure do! These are available at most resorts in Maldives.
Does Every Maldives Resort have a Water Slide?
No, there are actually a select few resorts with water slides on the island.
Can I Book a Water Villa with Slide in Maldives?
Yes, you sure can! Just be prepared to pay a little bit extra for this added amenity.