MALDIVES WEATHER
The one thing that you can almost always rely on from Maldives, is the weather is mostly consistent temperatures. The typical average for temperatures is close to 75 degrees all year long, although there are times it may get slightly warmer or slightly cooler.
In this guide, we will break it down for you and take a closer look at what you can anticipate for temperature, precipitation, wind, and more all throughout the year.
You will find details about when you might want to plan your trip, as well as a breakdown of the monthly weather in Maldives.
Keep reading to learn more!
Maldives Weather By Month

If you look at the Maldives weather today, you will find that it's partly cloudy, with a high of 31 C, or 87 F. That's straight from the current weather in Maldives as of today's Male forecast, and it's normal to have some rain there this time of year. (Written in November)
But, despite the rain during their rainy seasons, notice the warm and balmy temperature. A little bit of rain in Maldives certainly isn't going to ruin a wonderful time in paradise, but it might affect when you book your trip.
Take a look at the following month-by-month break outs to get a better idea of the weather you might experience year-round.
Here is a quick breakout of the different seasons in Maldives:
February-April: perfect temperature, wind about 7 MPH, dry season
May-November: warmer temperature, higher humidity, wind about 10 MPH, rainy season
December-January: warm temperature range, little rain, wind about 7 MPH, Male gets busy with travelers.
Here you can find the best time to visit Maldives.
January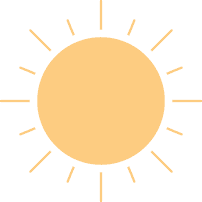 If you're looking for a decent time frame from sunrise to sunset, and you want lower humidity, fewer showers, and a nice, moderate climate, January is a bright and sunny time to visit Maldives.
This time of year, rainfall averages are little to none. The skies are almost always a bright, clear blue, and the sun is always shining. You can go Mon, Tue, Wed, Thu, Fri, Sat, or Sun and experience very few clouds in your blue skies.
The islands are magnificent this time of year, and the sea is gentle. It might be a great time for you to get away from the cold days in your area in the winter season.
February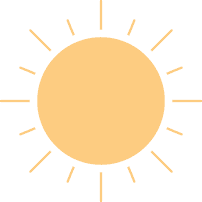 The Maldives average temperature throughout February is full of promise and sunshine. Not like today, where the current temperature in Maldives is hot and rainy, you've got temperatures that are close to 28 C or 29 C, which is 82-84 F.
Just like in January, the precipitation this time of year is also mild, so no rain is going to ruin your great time. You might have some partly cloudy days, but the rain will likely hold off in Male, and across the various islands of Maldives.
And don't worry about the wind either. Chances are you will just experience a light breeze of 7 MPH or less throughout February. And the temperatures and wind change very little when the moon comes out at night.
March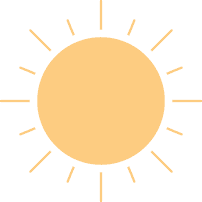 March is another time that has a few partly cloudy days but will have very little precipitation. Wind averages 7 MPH or less, giving you that simple breeze as well. You can anticipate approximately 9 hours of bright sunshine, so your night won't overwhelm the daytime hours in any way.
This remains part of their busy season because you have plenty of hours of light between sunset and sunrise, and your temperature is right around that 80 F. degree mark. The visibility is clear to enjoy the water sports and give yourself the perfect chance to soak up some sun.
Since there is minimal rainfall during this season, you also won't have excessive humidity to worry about. Get up early, enjoy clear skies and a calm sea, and then watch the stars from your overwater bungalow through a clear night too.
The low temperatures stay dry and only go down to about 72 F this time of year.
April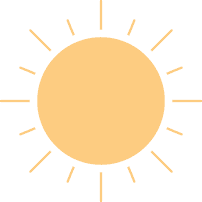 Around the islands of Maldives, April is starting to be near the wet season for weather. Your chances of showers start to increase, but it is still a bit early for heavy rainfall. The temperatures are consistently near that 80 F mark still.
You may see more clouds than in January-March, but overall, you're still in a pleasant season that is mostly sunny and warm. On the wet days, the humidity might be higher, and you will see a bit of rain, but not excessive precipitation.
The rainy days are spotted throughout the month and pretty light still.
The weather remains consistently warm, with lots of sunny days, and ample hours of sunshine before the night falls.
May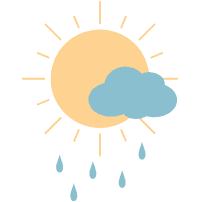 The climate in Maldives takes a shift in May, which will start to make up their rainy season. It doesn't mean you have full months of rain, or that the Maldives humidity is out of hand. However, if you don't like rain at all, you likely will find some during your stay in these months.
Don't let a little rainfall stop you from visiting Maldives year-round. Those partly cloudy hours and precipitation don't take away from the warm temperature or the ability to have fun. Even the wind isn't terrible and rarely exceeds 12 MPH. The only exception is the occasional monsoon that the Maldives sees.
At night, the skies are typically clear or partly cloudy, so you can see the light of the moon and stars and still enjoy spectacular views with awesome visibility.
The biggest change is that the humidity and the average rain will slightly increase. That being said, the average rainfall is not as high in May as it is in some months.
June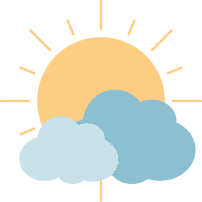 Where May typically brings in humidity and precipitation, June almost always brings a slight break from those partly cloudy days in Maldives and Male. In fact, while it falls right in the middle of the rainy season, it's likely to have lower precipitation levels.
The really good news is that when rain does come in, and the days are partly cloudy, it simply doesn't stick around all day or all night. Most of the rain is short-lived, thanks to low sea levels at the islands.
This time of year tends to be a little less busy in Male and throughout Maldives, simply because it's part of the rainy season and not considered their high season.
The temperature will still be warm, you might have some higher humidity levels, and you will likely see some rain in the weather. But the rain will not dominate the days or the nightlife either
July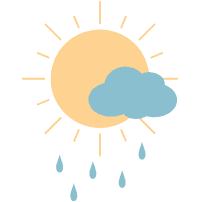 In July, Maldives will see a higher average of precipitation again. The partly cloudy days will likely be more, and the temperature and humidity will both be higher thanks to the extra moisture the Maldives weather brings about.
There is less light between sunrise and sunset, but you should still anticipate approximately 7 hours of sunshine on average, despite the rain or partly cloudy days. The wind will range from 7-12 MPH, depending on the cloudy days and rain that passes through in July.
During rain, visibility might be reduced slightly, and things will be wet. But overall, the moderate climate prevails in the forecast. Enjoy the sunny times, and don't let the chance of rain stop you from enjoying your experience each day you are in Maldives.
August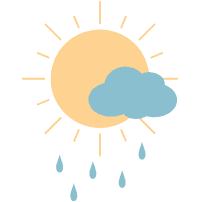 In August, the forecast will likely call for high levels of humidity, thanks to the sunny times mixed with the partly cloudy times and rain times. The chance of rain is pretty high, and the chance of humidity is even higher.
Your temperature levels remain right around the 80 F degree mark, but the humidity and sunny combinations might make it feel warmer. Even when the rain is not there, you might feel "wet" from the humidity.
That being said, the rain comes and goes, but the average days of rain may be slightly higher. Precipitation gets fairly high in August here.
Sunrise begins at about 6:20 AM, and sunset comes at about 6:20 PM. In that 12-hour span from sunrise to sunset, you will see an average of 8 hours of sunshine. That's plenty of light despite the rain and cloudy times in the forecast during this season.
The average rainfall in the month of August is a total of 6-10 inches throughout the entire month. That precipitation builds up throughout the month and doesn't happen every day.
September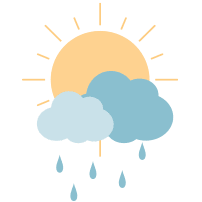 In Maldives and Male, September also sees a high mixture of rain, partly cloudy days, warm weather, and some humidity. The average rainfall for the month is a total of 5-8 inches, with wind speeds that are about 10 MPH at different times.
From sunrise to sunset, you will likely see 12 hours of light, and a good portion of that will be sunny. Yes, you will certainly see some partly cloudy times, as well as precipitation. The good news is that even with the precipitation, rain storms come and go fairly quickly.
Even with higher levels of rainy weather, and warm temperature highs, your trip to Maldives will be able to go as planned primarily. The clouds might make the climate feel a little bit better without bringing the showers and high humidity to the surface.
Thanks to the quick passing of rain, your visibility remains great every day, and the chance of rain will rarely affect that.
What to do if you hit rainy days in Male or around the islands in Maldives:
Wait it out, rain usually blows through quickly.
Enjoy activities despite the rain
Don't change your whole day from moisture that likely won't last
Gauge your expectations for the MPH of the wind
October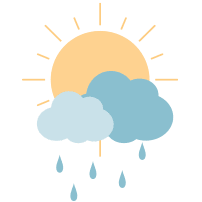 While October might still see some rain, it won't be every day, and the chance of rain really starts to decrease. You will still experience clouds, but the humidity will start to come down in October, and the temperatures might also start to reduce.
Where that 85 F and high humidity dominated the past few months, you will start to see the clouds diminish a bit more in this October season. If anything, you might experience some partly cloudy weather with minor levels of precipitation.
In October, the night will be clear, and the wind will be back to 5 MPH or less most days. This is just nearing the end of the rainy season, so it may still be cloudy from day to day, and the temperature will still be near that higher mark. But you will start to notice that change that suggests the dryer season is returning to Maldives.
November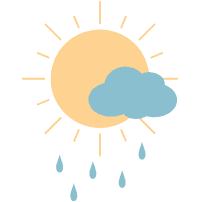 In November, you start to see hope of saying goodbye to those partly cloudy days. There is still going to be rain, as this is right at the end of the rainy season. But by the end of November, you will start to welcome comfortable temperature highs, clear weather, low wind, and high visibility from morning to night as you head into the best seasons.
Approximately 13 days of the month will have rain, and the humidity is still pretty high. But the hours of sunshine might be longer at one time, and the rain more spread out. Get ready to make the most of your Male or Maldives adventures.
November has lots of light and equal parts of rain too. On those nice days, they are perfect for you to get out there, stay dry, and enjoy long activities like diving, sunbathing, golfing, and more. Travel starts to pick up as we move towards the dry season, compared to the low travel months before November.
November is hit or miss. You know you're getting close to the dry season, but there are still bouts of heavy rainfall that you will likely run into.
December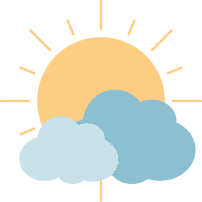 If you're looking for the perfect place to travel for the holidays, Maldives just might be the solution for you. From the time you fly into Male, to the time you leave again from Male, the temperature will be perfect, and the hours of sunshine will give you an awesome experience.
While there could still be some partly cloudy days intermixed in there year-round, the temperature is perfect, the partly cloudy times rarely last long. The night sky will be clear with high visibility of the gorgeous stars and moon.
From sunrise to sunset, you will have so much time to experience sunny activities in prime temperature settings. The light lasts for more than 12 hours for most of this month.
December is a popular time to visit, so plan ahead if you want to experience Maldives or fly into Male during this dry period.
Experience Maldives Any Time of the Year

While Maldives weather can certainly bring you some partly cloudy months, higher temperature or humidity times, and even months of wind and rain that are higher than normal, it's still beautiful just about all year long.
One of the classic things about Maldives is that even when it does get a bit cloudy, or the wind reaches 12 MPH, it won't ruin an entire trip. Rain typically blows through quickly, so you can still enjoy your time in Paradise.
What month will you plan your trip in?
FAQ
What is the Average Temperature in Maldives?
Most of the year, the temperature will range from 75-85 degrees Fahrenheit. There may be times when it gets slightly warmer or cooler.
What Forecast Should I Plan for Maldives?
This really depends on the time of year. However, it is warm all year long, so always plan for warmer weather or possibly even hot weather when it gets really humid.
What is the Rainy Season in Maldives?
The rainy season is described as May to October. These months see higher levels of rain and higher MPH of wind as well.
Does it Rain a Lot in Maldives?
Not really. While they do have months that have more rain and sometimes see monsoons, it's not like they just have constant rain coming down.
Does it Rain All Day in Maldives?
Not usually. Even in the rainier season, Maldives will typically have spurts of rain that pop in and out rather than constant all-day rain.