If you're thinking about going to the Maldives or just curious about learning more, one of the things to answer is where is the Maldives exactly? This question can get a little complicated because the Republic of Maldives is not just one small spot.
Rather, the Republic of Maldives is placed in the Indian Ocean, but it's comprised of a group of more than 1200 islands in total, with the capital of Maldives being Male. There are a lot of details to uncover about the Maldives and just where the islands are located.
In this guide, we will break it down a bit more, talking about the Maldives location, but also how vast of an area this country really spans. Check out more below!
An Indian Ocean Island Country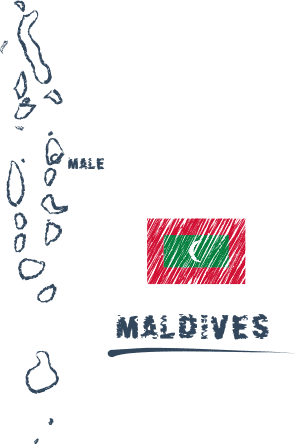 The best way to describe Maldives is to call it a bundle of islands and reef atoll locations.
There are 1200 islands located in the Indian Ocean that together create this island nation. Many islands are not inhabited islands, with only about 200 of the islands having any type of population on them.
What we do know is that the islands are largely made up of coral islands and atolls, which is why the coral reefs are so popular. This is a South Asian country that runs north to south and spans more than 300 square kilometers overall.
When you're looking at where is Maldives on the map, it might be easier to locate by first finding Sri Lanka.
Maldives is made up of 26 atolls, and nearly all of the islands are not much above sea level. It's a location that is really like none other in the world when you think about it.
These are some details that set apart the country in terms of where is Maldives located:
Made up of 1200 tropical islands
Transportation from island to island requires seaplane or speedboat travel
All but 200 islands are uninhabited
26 atolls are part of the coral islands
Just slightly north of the equator
A branch of Asia, and close to India as well
What Country is Maldives In?

When you're trying to figure out which country is Maldives or where are Maldives located, one thing that stumps people is that it's not connected to any other country like Sri Lanka, Thailand, Asia, or India, despite the close ties to these countries.
In fact, Maldives is an independent nation and its own country with its own government entities that do not fall under any other country on the map. Maldives is governed by a Muslim government, and they thrive through tourism.
Ultimately, the Maldives is located in the Indian Ocean, and many island options exist.
Malé is the capital of this island nation and this is where the international airport is. From here, you transfer to your islands or resorts.
Island Resort Locations in Maldives

While Male is the capital, there are many islands that have resorts, which is perhaps a detail that complicates the question of "where are the Maldives located?"
On a map of the Maldives Islands, you will find that there are several islands with inhabitants that are popular for visiting. They are loaded with palms, lagoons, pristine beaches, and luxury destination resorts to vacation on.
These are some of the most popular islands, but it does not cover them all:
Male
Maafushi
Thoddoo
Hulhumale
Vaadhoo
Veligandu
Biyadhoo
Baros
Thulusdhoo
Mirihi
You can find paradise at any land point in Maldives, and not all of them are near the central islands or capital. Take a trip to the east, west, Northern, or Southern parts of Maldives and experience the culture, natural habitats, Maldives language, fishing, diving, and so much more!
Where's Maldives for Flight Planning?

The key to planning your flights to Maldives is to use an airline that will get you there. In some cases, you may have to change airlines in order to fly internationally.
For tourists coming from the US, there are only select airlines that will allow you to fly with them.
In most cases, you will come to central Male first, and then take other flights, speedboats, or transit to your final destination. Some people have had to get a hotel on the main island and then go to their location the next day. This simply depends on the schedule of flights and when they come in.
There are very few direct flights, which are mostly from Colombo, Sri Lanka, or Qatar.
The majority of luxury hotels and resorts in paradise will have direct transport that takes you from Central Male to your final location, especially those that aren't nearby and require a seaplane.
Here you can learn more about the Maldives flights.
Where is Maldives Located on a Map?

Where is the Maldives islands is easier to understand when you take a look at it here.
Of course, if you're working with a vacation planner or flights, you don't necessarily have to know the exact response to where are the Maldive Islands, right? You just need to know that it's a paradise like no other.
But if you want to get a quick idea of where's the Maldives? Remember that it's just slightly north of the equator, and it's located near India and Sri Lanka, in Asia. This should make it easier to pinpoint on a map.
Maldives GPS coordinates are:
Latitude 1.924992
Longitude 73.399658
DMS Lat 1° 55′ 29.9712" N
DMS Long 73° 23′ 58.7688" E
UTM Easting 321,998.58
UTM Northing 212,853.78
(Source: https://www.latlong.net/)
The GPS coordinates can be helpful, particularly if you are looking online or in a digital database.
The Atolls of Maldives

One thing that you hear a lot about the Maldives is the atoll locations. Many islands and resorts are described by what atoll they naturally fall into. But when you're thinking about where is Maldives islands, you probably have no clue what the atolls really mean, aside from what you've read or heard.
These are the primary groupings of the atolls:
Southern Atolls
Central Atolls
Northern Atolls
In each of these areas, from southwest to southeast or northeast to northwest, you will find there are several different atolls within each region. Those 26 atolls all have their own names.
Southern Atolls
This is the top area for diving and other watersports, and it is called the luxury side of the Maldives, thanks to resorts like Park Hyatt Maldives and more. The names you will likely hear the most in this area are the Huvadhoo and Addu atoll spots.
Central Atolls
This is a less popular area, but no less wonderful. Here, you will find the South and North male atolls, as well as areas like Laamu. The central atolls are home to award-winning resorts like Six Senses Laamu and Niyama Private Islands.
Another popular name you might hear here or visit is the Ari Maldivian atoll.
Northern Atolls
Plan to take a seaplane to most of the resort areas in the northern Maldivian region. They are quite a ways from the city and the main airport, but this means they are private from beach to resort.
Here you can enjoy some of the best surfing in the world and stay in a world-renowned resort known for surfing too. The main difference from the south is just the location and the way the sea level affects the waves of the sea.
Here you can find the best Maldives surf resorts.
Go the Distance to Maldives and Visit Paradise
When it comes to answering where is Maldives located, just know that it is south and warm. Unlike other countries, this spacious beach and island locale is independent. It's a bright spot for tourism, honeymoon packages, and international life as well.
It's a distance that is well worth traveling, despite the long trip that may lie ahead of you when you come to Maldives.
What part of Maldives appeals to you the most?
FAQ
What Country Owns Maldives?
Maldives is completely independent of other countries. They have their own president and government, with their own laws and allowances throughout the country. Maldives is its own country.
Is it Safe to Travel to Maldives?
Every country has its risks, and Maldives has some of its own. However, they thrive on tourism and do their best to keep you safe when you visit.
What is the Best Part of Maldives to Go To?
This is really a matter of preferences. Any part of Maldives that allows people is absolutely stunning and perfect. Different areas might have varying details (like surfing, diving, or other activities) that specifically appeal to you.
How Long Does it Take to Get to Maldives?
It depends on where you're coming from. Very few countries offer direct flights to Maldives. In some cases, you can get there in 12-13 hours. However, traveling from the US, it may take you up to 32 hours to complete your travel plans.
How Many Islands are in Maldives?
The country of Maldives is made up of 1200 islands in total. However, when it comes to traveling and visiting the country, there are only 200 islands that are inhabited and even fewer that have hotels or resorts on them.