Is there a best time to visit Maldives? While there are certainly heavy tourist seasons and a monsoon season, if you want to visit the Maldives you can likely do so any time of the year. Just need to keep some things in mind.
Some months are considered off-season and these may be the cheaper times to head to this paradise. Other times, the weather in the Maldives may not be as sunny and beautiful thanks to potential rain and monsoons.
Whether you specifically want to spend the off-season in Maldives or you simply want to know the best season to visit Maldives, we've got you covered.
In this guide, we will share details and expectations for the various seasons, providing you with all the information so you can decide when to travel to Maldives for your own priorities.
Take a look!
Weather in the Maldives: An Overview
The one thing you can almost always count on when you visit the Maldives is perfect temperatures. Almost all year round, the average temperature ranges from about 75 degrees Fahrenheit to 86 degrees Fahrenheit.
The wet season tends to be just slightly cooler but they rarely dip below that 75-degree mark.
The country doesn't have a winter so warm temperatures in the Maldives can always be appreciated. The difference in the seasons they do experience is basically wet season vs. dry season.
If you're looking for the best time to visit Maldives temperature-wise, you can go throughout the year.
The Best Month to Go to Maldives (High Season)

What one person thinks is the best time to visit Maldives, you might decide you don't care for at all.
However, they certainly have a peak season. That peak season is also known as the high season.
This is the best time according to the high numbers of tourists that visit in that timeframe.
While you can go year-round and experience all of the best activities, beautiful blue waters, and plenty of marine life, some of the regulars claim that February and March are consistently the best time to go to the Maldives.
April is also still part of the Maldives peak season. This month is so popular because the weather and temperatures are still pretty consistent before the wet season.
February is the best month to visit Maldives because you are unlikely to see rain and the waters are so perfectly blue.
February stays will certainly need to make plans in advance. You will likely also see higher rates for travel, resort costs, and even activities while visiting since this is the peak season.
Be prepared to pay a higher price.
The Maldives peak season is from December to April.
Visit the Maldives – Additional High Seasons

When you're planning your trip to the islands, there are some additional high seasons to be aware of as well.
Most of these times will also have higher prices for resorts, island activities, and probably travel as well.
These are a few of those additional high seasons in Maldives:
Ramadan
Major holidays
Christmas
Independence Day
Thanksgiving
Valentines Day
Spring Break weeks
A lot of people like to travel on holiday dates so these will automatically be some of the more popular times for your tropical destinations.
In addition, the United States has a high rate of vacation travelers throughout their summertime months so tourist numbers could be up at that time as well.
Here you can see the travel trend among US visitors in Maldives.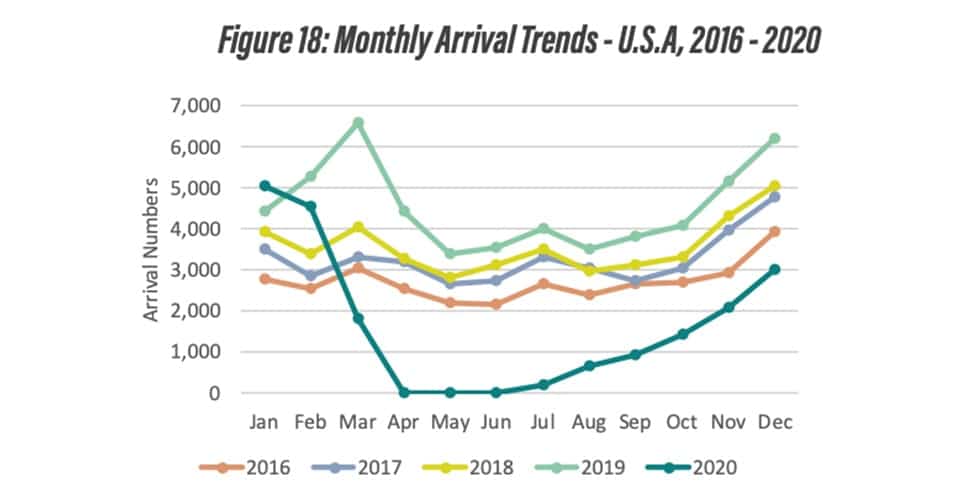 Source: Maldives Ministry of Tourism
Some of the popularity will depend on holiday events, local festivities, and even the cheapest flight period too. The Maldives holiday season can get pretty busy and more costly as well.
Maldives Wet Season – Mid May to November

Mid-May to November represents the Maldives wet season. If you're looking for the best season to go to Maldives, this is probably not going to be your top choice.
While the weather may be nice the majority of the time, it is less predictable. This rainy season can bring monsoons, rainfall, and other things that might impact your holiday.
This would also be considered the Maldives off-season time frame. The resorts are not as busy, the price of visiting will be low compared to some of the peak times on the calendar.
You can still enjoy a romantic getaway and most of the sun and the enjoyment of a tropical vacation.
However, there are more risks of storms if visiting during these months. The climate will not change much as far as temperature is concerned, although it may be towards the lower end of the average temperature scale.
If there are storms, this could impact the visibility of sharks, whales, and other marine life and the waters might not be as blue.
You might not be able to go scuba diving, or snorkeling because of the turbulent weather. This will likely just depend on what occurs while you are there. That being said, you will probably find some good deals as well.
If surfing is what you are looking forward to the most, this is a popular time. You can't be out in the storms of course but the rainfall makes surfing a little more exciting.
If you hope to be visiting at a time when you get the best glimpse of the culture, Ramadan is in May and falls into the wet season dates.
The rainfall could impact visibility and could downplay activities but you likely will see sunny days among the rainfall. How much rain you see might also depend on the Atoll or island that you are visiting.
You just don't really know what to expect, making this season less popular and therefore less busy with people, aside from Ramadan in May.
Ramadan is a very important religious celebration. The number of people will go up during that time, as will the cultural celebrations.
Rain in Maldives doesn't have to be a negative aspect. However, these months do represent the Maldives low season.
These could be some of the concerns for the rainy season in Maldives:
Strong winds
Strong currents
Floods
Monsoon possibility
Slightly lower temperature
Less sunshine
Also view: Maldives Meteorological Service
These things lead to low rates, the cheapest accommodations at any resort or hotel, and the beach mostly to yourselves too. Your trip will still be grand, particularly since there are much fewer crowds.
The Maldives low season is from May to November.
Maldives Dry Season – December to April
The best time to visit Maldives, according to most people, is the dry season aka the peak season. The Maldives dry season runs from December to April. In these times, you will definitely have more sunny days and little to no rain. It is the absolute best season for Maldives from that perspective.
Since it is a busier time, the rates will likely be higher at resorts and hotels. Your rates might be higher for travel and activities in Maldives as well. This can vary. Destinations like this always vary so much.
What you can count on is dry weather that allows you to soak up the sun on the beach, enjoy tons of events and activities, swim more in the sea, have higher visibility of marine life (sharks, dolphins, whales, etc.), and have more consistent flights to Maldives too.
As far as climate and weather, your temperatures are going to be towards the higher end of the average consistently. It's absolutely gorgeous, no matter which atolls you decide to spend time on in Maldives.
You can expect to see a higher number of people around the atolls, more events to attend, dates that are harder to book at a resort or hotel, and no concerns about monsoons or weather.
The average temperatures promise sunshine from the South and warm waters. It's possible you will see some rainy hours or mornings but you won't see monsoon weather or regular rain this time of year.
Notice that holidays like Independence Day do not fall at this time of year. But you do have December, January, February, March, and April. Each of these has some holidays built into them.
Christmas in Maldives is a big one to plan for and the islands will likely be busy with diving, sunshine, warm weather, and happy people soaking in the warm temperatures.
Since this is heavily recommended as the best time of year to visit the Maldives, you will need to plan in advance for resort, hotel, flights, and other transportation or events as well.
The Best Time of the Year to Go To Maldives on a Budget

If you're looking for low prices or the best time to travel to Maldives to save a few bucks, the rainy season it is.
Many of the low-priced flights are found in February historically (due to the high number of flight routes) but the accommodations are a lot more expensive during this peak season.
If you are willing to travel from May to November for your trip, you can expect lower prices overall and better deals for just about everything. Since this season is less busy in Maldives country, the deals are more affordable to attract people to come through during this period.
November and May are right on the edges of the different seasons. December and April tend to be busy so they are likely not the times to visit for cheaper experiences in Maldives.
If you are traveling on a budget, check out our list of cheap resorts in Maldives.
Monthly Rundown of Maldives Year Round
Take a look at these quick expectations for the months throughout the year in Maldives:
January – awesome temps, little rain, higher hotel rates
February – awesome temps, little rain, high resort rates (romantic getaways)
March – awesome temps, a bit more rain, high resort rates (Spring break)
April – high temps, higher rain, medium rates
May – September: May, June, July, August, & September see quite a bit more rain, plenty of warm temperatures, and some of the lowest-price options available
October & November – Travel picks back up, particularly in the capital city. High temperatures, reduced rain, higher costs
December – holiday favorite with Christmas in December. Tons of sunshine, and warm weather, prices at resorts are more expensive.
Visit Maldives Year Round
The best time to visit the Maldives is really year-round. Months like December and April are certainly some of the highest seasons for a time to visit the Maldives. Average sunshine is more prominent during those dry months but prices will be higher.
Prices will be lower during wet seasons but you also may see some rain.
The temperature remains within a specific average almost all year, with only about a 12-degree variable. You can almost always expect a temperature in the 70s and 80s no matter when you are here.
Plan your trip for whatever works best for you! When will you take your journey to paradise?
FAQ
How Many Days are Enough for Maldives?
We recommend staying at least 5 days.
What is the Cheapest Month to go to Maldives?
From May to November is when you will likely see the lowest prices in Maldives.
What is the Rainy Season in Maldives?
Rainy season runs from May to November.
When is the Best Time to Visit the Maldives?
The best time is really when it works for you based on budget, the rain you're willing to put up with, and your schedule too.
What is the Best Time of the Year for Maldives?
December to April are the most popular months. December is one of the favorites, particularly if you want to soak up the sunshine and avoid the snow on Christmas Day.